Papaya Aloe Vera Soap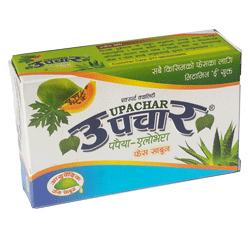 Ingredients: – Churi, Honey, Tulsi, Papaya, Peppermint, Neem, Chandan,  Aloe Vera, glycerin etc.
  (1) Papaya :-
Lightens the dark and tanned skin
Iron and wrinkled skin.
Reduces unwanted hair.
Exfoliates the dead skin cells.
Repair the damaged skin.
Moisturizes the dry skin.
Heals the cuts and burns.
(2) Aloe Vera:- Aloe Vera extract in papaya aloe Vera face wash keep skin rejuvenating, hydrate, and glowing. It also contains antibacterial properties that help in combating pimples, acne, eczema and black heads.
 (3) Basil or tulsi:- Basil prevents dryness and gives brightness to the skin. It helps in keeping skin away from blemished and white patches facilitated by vitiligo.
(4) Neem:- Neem is well known for its antibacterial, anti fungal, anti inflammatory and anti septic properties . Neem helps to protect skin that is prone to acne. It also helps to soothes and moisturize dry skin or crumbled pores and skin.
(5)Honey:- Raw honey contains anti-bacterial and anti-fungal properties that can help heal even more serious skin wounds.
(6) Peppermint:-
It is a natural antiseptic with an ability to wake up out skin and manage oil production in face.
This minty ingredient has omega 3, fatly acid, vitamins A and C, calcium, iron, potassium and magnesium- so it'll to whip dry skin, stubborn nail beds and blemishes- prone skin into shape.
Usage:-
Step 1:- wet your face with lukewarm water .Hot water dries the skin and can lead to tissue damage and broken capillaries.
Step 2:- Rub the soap directly onto your clean hand and then use your hands to apply the soap to face. Be very careful not to get any soap in your eyes.
Step 3:- massage the soap into your skin for a maximum of 30 sec using small circular motion. Press gently with the pads of your fingers when washing your face. Rubbing too hard will irritate your skin and may cause tiny tears in the delicate tissue around your eyes and nose.