Upachar churi neem Soap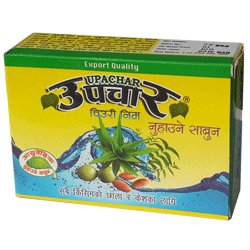 Upachar churi neem is a natural handmade herbal soap developed with ancient ayurvedic cleansing formula. The soap is made by a reaction between vegetable oils and a solution of sodium hydroxide and water. It contains different natural herbal extracts to give up a person natural and healthy looking.
It provides optimum moisturizing and soothing benefits with humectants. Herb-Bath serves to your optimum satisfaction and makes you feel always fresh. The company produces varieties of health and beauty products based on herbal ingredients originated in from high altitude Himalayan range of Nepal.
Ingredients:-
(1) Neem:- Neem is well known for its antibacterial, anti fungal, anti inflammatory and anti septic properties . Neem helps to protect skin that is prone to acne. It also helps to soothes and moisturize dry skin or crumbled pores and skin.
(2) Aloe Vera: –  Aloe Vera extract in papaya aloe Vera face wash keep skin rejuvenating, hydrate, and glowing. It also contains antibacterial properties that help in combating pimples, acne, eczema and black heads.
(3) Tetipati(Artemisia vulgaris):- A tetrapeptide that targets neurosensitive skin by decreasing the release of pro-inflammatory mediators and increasing the skin's sensitivity tolerance threshold, making skin less reactive and diminishing sensations of pain and discomfort.
(4) Amla (Emblica officinalis):- The extract of amla is rich in Vitamin A. This vitamin is essential in collagen production, a compound that keeps the skin looking young and elastic.
(5) Shikakai (Acacia concinna):- It is effective in treating scabies.
–    Use sihikaki to treat spot
–   To treat minor cuts and boils on your scap.
Indication:- Upachar herbal bath soap will fight against micro organism such as bacteria, fungus, parasites and reduce the excessive perspiration and bad adors. Its clean skin preventing hair loss,keep skin soft and care from dandruff.