Papaya -Aloe Vera Face wash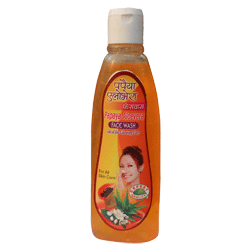 Papaya -Aloe Vera face wash is a combination of 12 different ayurvedic herbs to produce astonishing result to produce smooth fair and glowing skin. Papaya -Aloe Vera face wash is a herbal based formation and works friendly on the skin without any side effect. It is a formulation of 12 different unique and time tested ayurvedic herbs that works synergistically and benefits in skin to attractive glowing and beautiful. The herbal preparation of 12 herbs nourish skin with rich ingredients  and benefits in dark spots, dark circles, acne, scare, sun burn, black heads, cold sores, blemished, skin elasticity, aging and wrinkles. Papaya -Aloe Vera face wash helps in making skin fair and glow.
Ingredients:-
(1) Aloe Vera:- Aloe Vera extract in papaya aloe Vera face wash keep skin rejuvenating, hydrate, and glowing. It also contains antibacterial properties that help in combating pimples, acne, eczema and black heads.
(2) Basil or tulsi:- Basil prevents dryness and gives brightness to the skin. It helps in keeping skin away from blemished and white patches facilitated by vitiligo.
(3) Neem:- Neem is well known for its antibacterial, anti fungal, anti inflammatory and anti septic properties . Neem helps to protect skin that is prone to acne. It also helps to soothes and moisturize dry skin or crumbled pores and skin.
(4) Papaya:- papaya is abundant in anti oxidants due to huge concentration of vitamin A. 'Papain' in papaya is helpful in removing the dead skin cell. Papaya is a great skin-firming and anti-aging mask.
(5)Honey:- Raw honey contains anti-bacterial and anti-fungal properties that can help heal even more serious skin wounds.
Honey reacts mildly with water to form small amounts of hydrogen peroxide, which is a mild antiseptic. This helps repair damaged skin faster and destroys acne-causing bacteria on the skin.
Direction for uses:-
Splash your  face with water, squeeze a little amount of papaya Aloe Vera face wash on your palm and apply on your face and neck gently massage with your finger tips in a circular motion, rinse thoroughly and pat dry.