Ashmarihar Churna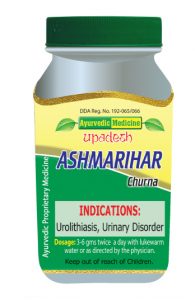 Doasage:-
3 gm- 6 gm twice a day with lukewarm water or as directed by the ayurvedic physician.
Indication:-
Urolithiasis
Dysuria
Burning micturition
Crystallurea
Oedema
Non- specific UTI
Other urinary disorder
Composition:-
1.Varuna :- It is recommended by the Ayurveda in the treatment of various urinary problems including stones in kidney, ureters and bladder.
2.Pasanveda :- Bergenia ciliata is a medicinal plant used for the treatment of kidney stones.  It has good antioxidant, anti-inflammatory, anti-tussive, anti-ulcer and anti-neoplastic activities.
3. Gokshura:- The host of anti-inflammatory and diuretic properties of this  makes it extremely beneficial for improving kidney functions and treating a number of genitourinary problems like UTI, urinary distension, urinary calculi, dysuria, difficulty in micturition, treating osteoarthritis, gout and relieving from sexual problems.
4.Punarnava:-Punarnava herb is most widely used in treatment of renal problems and urinary tract infections.It is used to treat jaundice, general fever and obesity. It is also used as anti-inflammatory and diuretic agent. It is used as a heart tonic and kidney tonic.
5.Apamarga:-apamarga Kshara is said to be beneficial in Urinary tract issues from kidney stones to burning urination.
6.yavkhar:- It is used in the treatment of difficulty in urination and urinary calculi. It is also used in treating bloating, abdominal pain, ascites.
7.Hajarul yahud bhasma:- Hajrul Yahood Bhasma has lithontriptic and diuretic action in the body, which helps dissolving and pushing the kidney stone along the course of the ureter.
8.Swveta parpati:- Shweta Parpati increases blood flow in kidneys and urine output. It has diuretic, alterative, analgesic, anti-inflammatory and urinary supportive action.
Available sizes:-
100 gram