Amrita Herbal Tea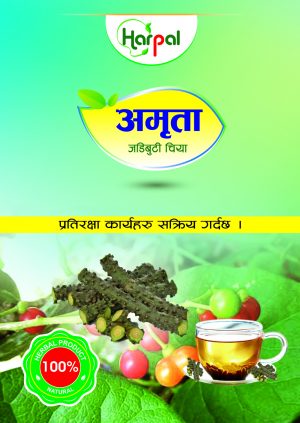 Tinospora Cordifolia (Giloy in nepali and Guduchi in Sanskrit) is an important immunomodulator herb.
Instruction :-
Take one tea spoon full of amrita tea,add a glass of water and boil it for 4,5 minutes, strain the tea and drink twice a day in empty stomach or as needed.
Benifits:-
1.Boosts immunity :-
Giloy is a universal herb that helps boost immunity. It is a powerhouse of antioxident which fight free-radicals, keep your cells healthy and get rid of diseases.
2.Treat chronic fever:-
Giloy is anti-pyretic in nature, it can reduce signs and symptoms of several life threatening conditions like Dengue, Swine Flu and Malaria as well.
3.Improves Digestion:-
Giloy is very beneficial in improving digestion and treating bowel related issues.
4.Reduces Stress and Anxiety:-
It helps reduce mental stress as well as anxiety. It helps get rid of toxins, boosts the memory, calms you down and makes for an excellent health tonic if combined with other herbs.
5.Treats Diabetes:-
Giloy acts as a hypoglycaemic agent and helps treat diabetes (particularly Type 2 diabetes). Giloy juice helps reduce high levels of blood sugar and works wonders.
6. Reduces Signs Of Aging:-
Giloy plant contains anti-aging properties that help reduce dark spots, pimples, fine lines and wrinkles. It gives you that flawless, glowing skin you've always wanted.